This last week, Sen. Pat Leahy announced that he would use his position as Judiciary Chair to move amnesty legislation through the Senate with all "deliberate speed."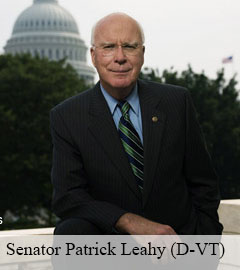 Let Leahy know that Americans demand transparency!  The Gang is expected to introduce their legislation the week of April 8, and Sen. Leahy plans to move it through the committee quickly and then on to the floor for a vote.
Contact Senator Leahy's Office over the weekend and leave a message for him at one of the numbers below:
Washington, D.C.
202-224-4242
Although the chief of staff for Gang of Eight Leader Marco Rubio (R-FL) vowed the Senator "won't allow" the legislation to be rammed through the upper chamber, it remains to be seen whether the Senator will be powerful to stop this undermining of process given Sen. Rubio is not on the committee.
Be sure to leave a short message telling him:
The American people deserve more than a backroom deal.
Demand that the Senate use a transparent process!
Tell Sen. Leahy to slow down. Americans need to find out what's in the bill BEFORE the Senate passes it!