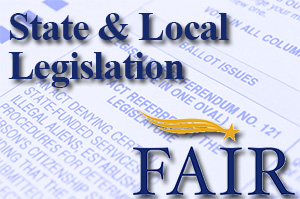 What's going on with immigration issues around the country? Each week, the State & Local team updates ImmigrationReform.com with the latest bills.
California
Assembly Bill 4, the anti-detainer bill so-called the "trust act," passed the Assembly (44-22) on May 16 and was introduced in the Senate and referred to the Rules Committee for assignment.
Assembly Bill 35, which grants ID cards and unemployment benefits to DACA recipients, passed the Appropriations Committee (14-3) on May 15 and is up for second reading.
Nevada
Senate Bill 303, which grants driver authorization cards to illegal aliens, passed the Senate (20-1) on May 20. The card is valid for one year and cannot be used for ID purposes. Identity can be proven by foreign passport, foreign birth certificate, consular ID card, or any other proof the Department deems acceptable. The card cannot be used to determine eligibility for any state benefits, licenses or services.
The bill also contains a provision that prevents the Director of the Department of Motor Vehicles from communicating the immigration status of any person who holds a driver authorization card to any person or federal, state or local governmental entity for the purpose of immigration enforcement.
New York
Senate Bill 5444, which grants driver's licenses to illegal aliens, was introduced on May 16 and was referred to the Transportation Committee. The bill amends current law to allow proof of identity by foreign passports (visa stamps not required) and consular IDs. The bill state eligibility for a driver's license shall not be conditioned on a particular immigration status.
Senate Bill 5346, which requires all employers, public and private, and public contractors to use E-Verify, was introduced on May 15 and has been referred to the Civil Service and Pensions Committee. New York currently has no statewide E-Verify law.
North Carolina
House Bill 786, an omnibus immigration-related bill that guts North Carolina's E-Verify law and grants driver's licenses to illegal aliens, passed the Finance Committee.
Ohio
House Bill 114, would amend Ohio's driver's license statutes to prevent deferred action recipients, including DACA, from receiving driver's licenses, was heard on Tuesday, May 21 before the House Transportation, Public Safety & Homeland Security Committee.
Resolution No. 2013-01
The Ohio Latin Affairs Commission has passed a resolution (No. 2013-01) asking the Board of Regents to allow DACA recipients to obtain in-state tuition rates and financial aid in accordance with Ohio statute and regulation.
Texas
Senate Bill 361, which requires magistrates to inform defendants of the immigration consequences of their plea, failed to pass third reading by a vote of 60-86.