Join us this Friday, June 21, 2013 at 2:00 p.m. EST for a "Twitter Chat" about the current amnesty bill being debated on the Senate floor.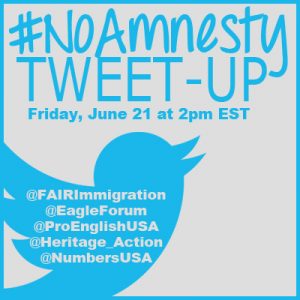 The "Gang of 8" bill, S. 744, is a 1,000-plus page "Obamacare-style" bill that grants amnesty to the estimated 11 million illegal aliens in the country and only promises for future plans to secure the border. The bill also grants broad new powers to the scandal-ridden Obama Administration and will cost an estimated $6.3 trillion.
Join us Friday to learn the truth about S. 744 from people who have actually read it!
Join experts from the Federation for American Immigration Reform (FAIR), Center for Immigration Studies, Eagle Forum, Heritage Action, Heritage Foundation, NumbersUSA, ProEnglish and many more!
To join, get on twitter and search #NoAmnesty at 2:00 p.m. EST Friday, June 21, 2013 and join the conversation!