Thank you for all of your hard work fighting against S. 744 in the Senate. Because of your help, we prevented Chuck Schumer and the amnesty lobby from gaining the 70 votes they predicted they would get!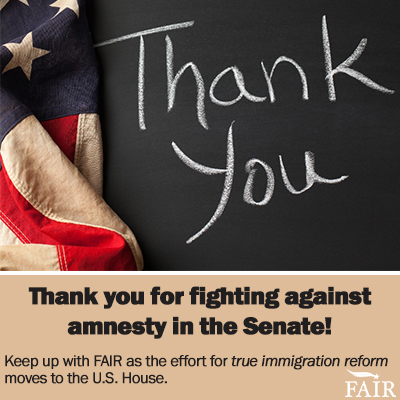 But the fight is just beginning. Now is the time to start refocusing your attention to the U.S. House of Representatives, where Speaker Boehner has claimed he will follow the will of the Republican Majority in the House. Make sure the will of Republican Majority is to:
• Oppose amnesty and any "pathway to citizenship" for illegal immigrants;
• Stop increasing the number of foreign guest workers at times of record unemployment; and
• Finally enforce U.S. immigration law and stop the Obama Administration's prosecutorial discretion policies that release illegal immigrants back onto the streets.
In fact, Republican Leadership in the House has called a closed-door meeting for Members of the GOP to discuss the critical immigration issue next Wednesday, July 10. It will be a time for Members to speak up and share their opinion as to how the chamber should proceed with the issue—make sure they tell Leadership to oppose amnesty!
While Members of Congress are back in their Districts for the July 4 holiday, take this time to call, write, or email your Member.  And if you really want to get involved, contact your Member and find out if he or she has any town hall meetings or events scheduled where you can voice your opinions.