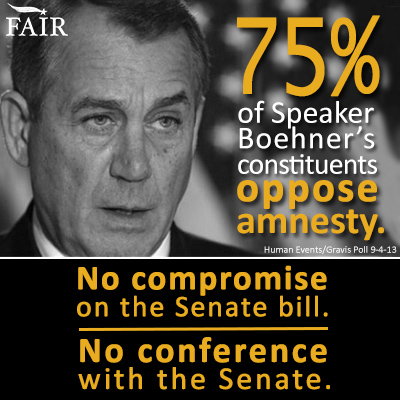 Pro-amnesty supporters have one strategy for Congress this fall: go to conference. Their goal is to pass any kind of immigration bill in the House and then work out the differences for a mass amnesty when the House and Senate hold a conference committee on their different bills.
"Do whatever it takes to go to conference."

-Minority Leader Nancy Pelosi (D-CA) on October 2, 2013
That's why Rep. Steve Stockman (R-TX) is encouraging fellow Members of Congress to sign a letter to House Speaker John Boehner asking him to pledge "No Conference" with the Senate.
Rep. Stockman's letter requests that Speaker Boehner not bring up any immigration bills to the floor for a vote without "a commitment that the House will not conference House bills on immigration-related issues with a comprehensive or multi-issue bill from the Senate." (Read Rep. Stockman's full letter here.)
Click here to call your U.S. Representative and encourage him or her to sign the "No Conference" letter. 
A conference resolves the differences in bills passed separately by the House and Senate. At a conference with S. 744, the mass amnesty bill passed by the Senate in June, parts of any bill the House passes could be overwritten. Rep. Stockman is concerned that if the House passes legislation that does not take positions on various issues and goes to conference with the Senate amnesty bill, they will be forced to accept the Senate bill's broad pro-amnesty and open borders provisions.
The amnesty lobby plans on a conference between the House and Senate on immigration bills. In fact, long-time amnesty supporter, Senate Majority Leader Harry Reid (D-NV) declared, "If we go to conference, we will win."
Don't let pro-amnesty leaders in Congress like Reid and Pelosi win!
Urge your U.S. Representative to sign the "No Conference" letter by calling him or her today.