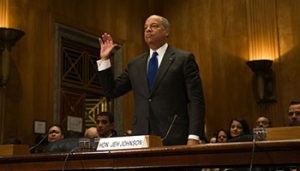 Is the Obama administration intent on stacking the Department of Homeland Security (DHS) with ill-equipped leadership?
Monday evening the Senate confirmed Jeh Johnson to be the next Secretary of Homeland Security, replacing Janet Napolitano. He'll be responsible for border security, enforcing immigration laws, and managing more than 240,000 employees, but his biography reveals no meaningful experience in immigration.
What Johnson is, is a longtime Democrat donor and former general counsel for the Department of Defense, who was often referred to as "the president's man" at the Pentagon. Surely his loyalty is being rewarded and he will continue to take marching orders from the White House – meaning the highly political actions at DHS will change little under his leadership.
Another key appointment this week is Alejandro Mayorkas, nominated to be deputy secretary of the department. Unlike his new boss Jeh Johnson – who has no experience in managing our nation's immigration apparatus – Mayorkas has plenty of it. His years of recklessly fast-tracking applications as director of U.S. Citizenship and Immigration Services (USCIS) has led whistleblowers to reveal national security lapses and the agency's union leader to question how an amnesty could ever be safely processed by such a dysfunctional organization.
If poor management and dangerous policies weren't enough, Mayorkas is under investigation by the department's own Inspector General. That's right; the man Sen. Harry Reid (D-Nev.) wants to vote into the No. 2 position at DHS on Wednesday is being investigated for helping Hillary Clinton's brother secure an EB-5 investor visa for a Chinese national – who had already been denied twice. More recent reports indicate that Mayorkas also helped expedite two dozen foreign investor visa applications for a casino in Las Vegas – after being pressured by Reid.
Despite this pending investigation, Democrats will not hold back on confirming Mayorkas as deputy secretary. Sen. Tom Coburn (R-Okla.) said moving to consider a nominee under investigation for professional misconduct was "without precedent."