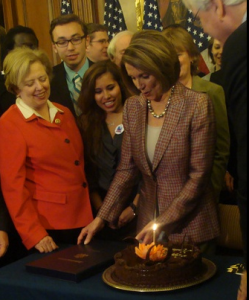 Today, on House Minority Leader Nancy Pelosi's (D-Calif.) birthday, House Democrats filed a discharge petition on H.R. 15. There will be 74 candles on Nancy Pelosi's birthday cake this year, but the number she's really wishing for is 218 – the number of signers needed to pass the discharge petition.
H.R. 15 is the House Democrats' mass amnesty bill which misguidedly cobbles together the disastrous S.744 (the Senate Gang of Eight's bill) with Representatives Michael McCaul (R-Texas) and Sheila Jackson Lee's (D-Texas) weak attempt at a border security bill (H.R. 1417). H.R. 15 would grant mass amnesty to illegal aliens and couple it with little to no enforcement. A discharge petition, if it gathers 218 votes (a majority of the House), forces a bill onto the floor for a vote. (See FAIR's legislative update for more information on what a discharge petition means.)
House Democrats have already used this unusual House procedural move to try to increase the minimum wage and to extend unemployment benefits. Both discharge petitions failed to meet the vote threshold necessary to pass. While President Obama was silent on these previous two discharge petitions, the H.R. 15 petition today quickly received a round of applause from the White House.
House Democrats shouldn't cut Pelosi's cake in celebration just yet. Don't forget that just a few weeks ago Pelosi admitted on a radio show that the discharge petition would be a failure. She declared unequivocally, "We'll never get to 218 on the discharge petition." The three House Republicans who co-sponsored H.R. 15—David Valadao (R-Calif.), Jeff Denham (R-Calif.), and Ileana Ros-Lehtinen (R-Fla.)— are refusing to sign this discharge petition, which would be seen as an affront to Speaker Boehner's authority. Even amnesty supporters like the managing director of United We Dream, Cristina Jimenez, characterized the discharge petition effort as "gathering meaningless petition signatures." Perhaps, instead of Nancy Pelosi's birthday, they should have acted next Tuesday, on a more fitting day for the H.R. 15 discharge petition: April Fools' Day.