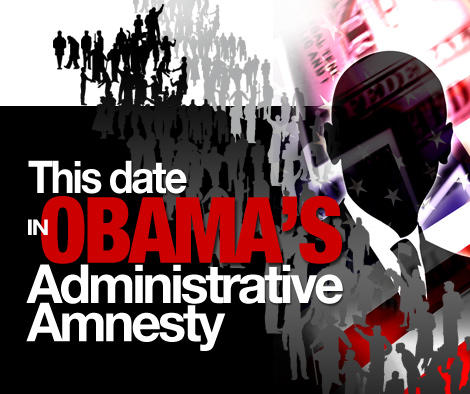 On April 13, 2011, the Obama administration was exposed for suspending the deportations of over 34,000 illegal aliens in fiscal year 2010, approximately 12,000 on the basis of "deferred action." These numbers were provided to Senator Chuck Grassley (R-Iowa) by the Department of Homeland Security (DHS). That number dramatically contradicted the number that then DHS Secretary Janet Napolitano provided during a Senate Judiciary Committee oversight hearing only the month before, where she testified that the number of illegal aliens who received deferred action was less than 900 in 2010.
On the very same day the Obama administration's real numbers were exposed, April 13, 2011, Senate Majority Leader Harry Reid (D-Nev.) and Majority Whip Dick Durbin (D-Ill.), with 20 other Democratic Senators, sent a letter to President Obama telling him that granting deferred action to illegal aliens was not enough. "We would support a grant of deferred action to all young people who meet the rigorous requirements necessary to be eligible for cancellation of removal or a stay of removal under the DREAM Act….," the letter read.  "[Y]our administration could establish and publicize a process for DREAM Act students to apply for deferred action. Currently, there is no formal process for applying for deferred action, and many DREAM Act students are unaware of this option."
Only two weeks before this letter was sent, President Obama had stated that "it was just not the case" that he could suspend deportations through executive order. Yet, of course, by June 2012, in the midst of his reelection campaign, President Obama decided to direct DHS to implement what he had once proclaimed he did not have the authority to do, and announced the Deferred Action for Childhood Arrivals (DACA) policy.  By now, over 520,000 requests for deferred action have been approved under the DACA policy alone.
Read more at FAIR's President Obama's Record of Dismantling Immigration Enforcement.