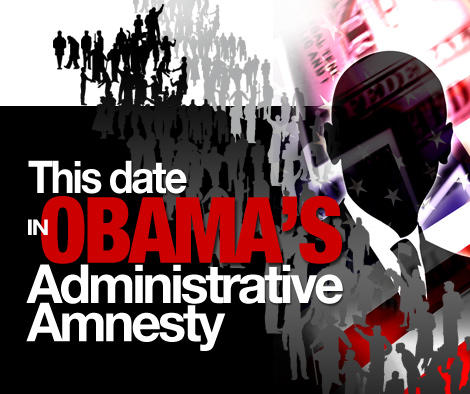 Only days after launching his 2012 re-election bid, President Obama held an amnesty summit at the White House on April 19, 2011. The President hosted approximately 70 pro-amnesty guests including former Governor Arnold Schwarzenegger, then-New York City Mayor Michael Bloomberg, Los Angeles City Council President Eric Garcetti (now mayor), Rev. Al Sharpton, and former Commerce Secretary Carlos Gutierrez. Although the White House press release on the meeting stated that the President planned to discuss how to "build a bipartisan consensus in Congress" on immigration reform, the White House did not invite any members of Congress or law enforcement representatives.
Noticeably absent from the discussions was then-Rep. Elton Gallegly (R-Calif.), who chaired the House Judiciary Subcommittee on Immigration Policy and Enforcement at the time. Representative Gallegly called the President's meeting and selective guest list a "summit on amnesty," noting that the attendees "were obviously people who were not concerned about stopping illegal immigration."
Also absent from the White House pow-wow were border state governors. Arizona Gov. Jan Brewer said "it was a little bit of a snub" that neither she nor Texas Governor Rick Perry, both Republicans, received an invitation from the President. Governor Brewer remarked that since she and Gov. Perry are on the front lines working to secure the border, they "should have been afforded that opportunity, to be at the table to help [Obama] understand the situation."
One person who did attend the White House meeting, however, was John Wester, bishop of the Catholic Diocese of Salt Lake City, Utah, and a chief architect of The Utah Compact. The Utah Compact is a five-principle outline which urges compassion towards illegal aliens and argues that immigration should be left to the federal government. The leaders of national pro-amnesty groups have spoken out in favor of The Utah Compact and encouraged its principles as a guideline for legislation in the states. Webster reported that The Utah Compact came up during the meeting with the President and suggested it might become a template for an "American Compact."
The White House amnesty summit came at a time when President Obama was under increasing pressure to rally his base for the 2012 elections. In an interview with MSNBC, amnesty champion Rep. Luis Gutierrez (D-Ill.) said that the President's failure to act on immigration reform is making it difficult for him to support Obama's reelection.  Gutierrez urged the President to create a "comprehensive" immigration reform agenda and warned that he needed to "shore up his support among the Latino community" in the coming months.
Read more at FAIR's President Obama's Record of Dismantling Immigration Enforcement.