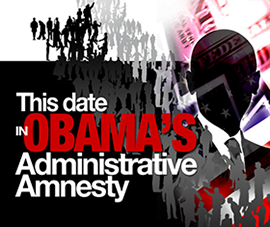 On June 3, 2009, the Obama Administration announced that it would delay –for a third time—the implementation of a rule requiring most federal contractors to use the federal E-Verify system to check the work authorization status of their new hires.  The delay of the E-Verify requirement came while special interest groups, led by the pro-amnesty U.S. Chamber of Commerce, sued the federal government in December 2008 to prevent the final rule (issued by the Bush Administration) from taking effect. The Bush Administration caved in January 2009, delaying implementation until February. The Obama Administration went further, delaying implementation three additional times and justifying each delay: "to permit the new Administration an adequate opportunity to review the rule."
FAIR's president, Dan Stein, criticized the announced delay. "Despite the need for E-Verify to protect American workers and the enormous success of the program, the administration and the Democratic congressional leadership are stubbornly ignoring a proven resource that helps prevent illegal aliens from displacing American workers," stated Stein at the time. "The fact that we are facing yet another delay demonstrates that gaining amnesty for people who broke our immigration laws remains a higher priority for President Obama than the plight of millions of unemployed Americans," Stein charged.
The E-Verify rule was finally implemented on September 8, 2009, nearly nine months after the original effective date and after federal contractors accessed billions of dollars in stimulus money.
Read more at FAIR's President Obama's Record of Dismantling Immigration Enforcement.