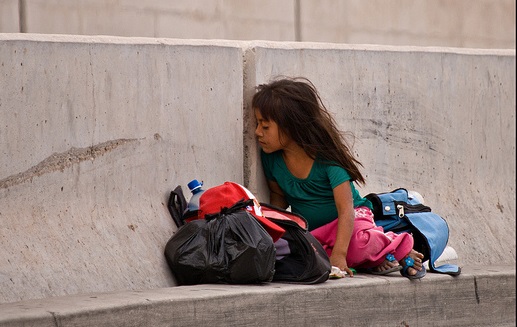 The massive influx of illegal alien minors across the Southern Border is now beginning to strain communities nationwide as the federal government attempts to settle them within the U.S. instead of immediately sending them home.
The number of illegal alien minors apprehended at the border is growing exponentially. In fact, the number apprehended in 2014 to-date has more than doubled since 2012, when President Obama announced his Deferred Action for Childhood Arrivals program.1 Now, tens of thousands of minors from Central America are crossing illegally into the U.S. in the hope that they will be allowed to stay, even if they are not technically eligible for DACA. The numbers of minors pouring in from Central America has grown so dramatically that between 2009 and 2014, the proportion of minors from Central America apprehended at the southern border has risen from 17% to 76% of the total apprehended.
In addition to DACA, the government's process for handling illegal alien minors from Central America provides another incentive for these minors illegally cross the border. Under federal law2, the government must put alien minors from non-contiguous countries, such as El Salvador, Guatemala, and Honduras, into formal removal proceedings3 instead of immediately transporting them back over the border, as the law permits for Mexican minors. This means the government issues the alien child a piece of paper telling him to appear in court and transports him, generally within 72 hours, to the Department of Health and Human Service's Office of Refugee Resettlement (HHS ORR).
HHS ORR then arranges to house the alien minors either in foster care or in one of its shelters, which, depending on the circumstances, may be anywhere in the country. According to HHS ORR, the majority of the minors are cared for through a network of state-licensed, federally -funded care providers that provide education, mental health and medical services, case management, and recreation. These providers also facilitate the release of these alien minors to family members — whether or not the family members are illegally present in the country.
However, with the number of illegal alien minors surging, ORR is now scrambling to find shelters. Last, week, federal officials canceled plans to relocate several hundred illegal alien minors in Lawrenceville, Virginia, a small farming community with 1,500 residents. Initially, ORR planned to settle the illegal aliens in a closed down community college, but kept local leaders in the dark. In fact, local officials only learned of the news a few days before the minors were scheduled to arrive. When they demanded a public meeting on the issue, half a dozen ORR officials heard loud objections from the more than 1,000 residents in attendance. The residents raised concerns about security, disease, impact on overburdened emergency services and tax dollars going to the illegal alien minors instead of local families living in poverty.
Federal officials also canceled plans to house a stunning 9,500 illegal alien minors in Baltimore, Maryland. HHS ORR had hoped to use a vacant warehouse once used by the Social Security Administration. However, influential lawmakers, including Mayor Stephanie Rawlings Blake and U.S. Senators Barbara Mikulski (D-MD) and Ben Cardin (D-MD) opposed the plan, saying the warehouse was not suitable for housing the minors.
Federal officials also canceled plans to house thousands of illegal alien minors to the small town of Olympia Fields in Illinois. But there, too, federal officials are facing a backlash. Over the weekend, Congressman Randy Hultgren (R-IL) called on the government to quickly return the illegal aliens, not make matters worse for the children by creating orphanages even farther away from their homes. "They should be returned to their home countries quickly and with human dignity, not left to languish in legal limbo," he told NBC Chicago.
In fact, the need to house illegal alien minors has become so dire, HHS ORR is housing them at military bases. Two years ago, when the numbers first began to spike, the Department of Defense (DOD) opened Lackland Air Force Base in San Antonio, Texas to house about 200 illegal alien minors.  At that time, federal officials promised use of the base was only a temporary measure and that it would only be open for 60 days. Now Lackland has once again re-opened its doors to illegal alien minors and is at capacity, housing about 1,200 minors. In addition, the military has opened Naval Base Ventura County near Los Angeles to host about 600 illegal alien minors. But at a combined capacity of less than 2,000 beds and a projected surge of 90,000 illegal alien minors crossing the border this year alone, using military bases to house these minors is having only a small impact.
Meanwhile, communities that are accepting the illegal alien minors are doing so at a cost. Last week, the Miami-Dade School Board publicly warned that an influx of needy children could create a financial crisis.  School board members agreed to request more money from the federal government to handle the sudden spike of foreign-born children. "We may be on the verge of a potential crisis," said School Superintendent Alberto Carvalho said. Educating these students, he said, costs on average about $2,000 more per child than what the state allocates in funding, hitting local taxpayers. School Board Chairwoman Perla Tabares Hantman added, "As a public school system, the reality is there's a financial cost to educating newly arrived students which goes above and beyond the typical [state]funding provided. It is only fair that the taxpayers of Miami-Dade County aren't unduly burdened as a result of federal immigration policies."
Rather than getting control of the situation, the federal government is already projecting that the crisis surrounding illegal alien minors will grow. This year, Congress has appropriated about $2 billion of taxpayer dollars — most of which will go to HHS — to settle these illegal alien minors inside of the U.S. HHS projects even more money will be needed in 2015. Meanwhile, the government is pulling Border Patrol and ICE agents off of their normal duties to process these aliens near the border.
This article was originally published in the Legislative Update from June 25, 2014. 
Notes:
1 Calculations based on Customs and Border Patrol statistics, June 15, 2014
2 Trafficking Victims Protection Reauthorization Act of 2008, P. Law. 110-457, Sec. 235, Dec. 23, 2008
3 Unaccompanied Alien Children: Overview, p. 5, June 13, 2014