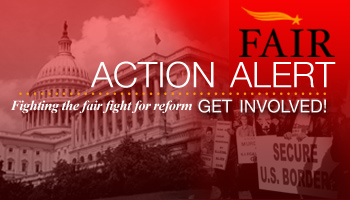 House Republicans to Meet THURSDAY!
Call NOW and Demand Your Representatives De-Fund Obama's Executive Amnesty
Thursday, House Republicans will meet in person for the first time since Election Day. Our sources tell us that immigration will be one of the top agenda items and that Republicans will debate how to address President Obama's promise to unilaterally grant amnesty to millions of illegal aliens living in the U.S. The President has vowed to fulfill this promise by the end of this year.
However, Congress has an opportunity before the end of the year stop the President. On December 12, funding for the federal government runs out and Congress must pass a new spending bill to keep the government running. This funding bill — whatever form it takes — MUST have a provision in there that prohibits the Executive Branch from using any money appropriated by Congress to carry out an executive amnesty program!
Therefore, we are urging all of our members, activists and supporters to immediately call their Representatives and demand they prohibit any government funding from being used to carry out President Obama's impending executive amnesty.
Please call your Representatives in the House NOW and urge them to do two things:
Sign a letter authored by Congressman Matt Salmon (R-AZ) that urges the Chairman of the House Appropriations Committee, Hal Rogers (R-KY) and the Ranking Democrat on the Committee, Nita Lowey (D-NY), to use any government spending bills for FY 2015 to strip funding from the President's executive amnesty. Remember, if your Representative has already signed the Salmon letter, please thank him or her.
Demand your Representatives reject any government spending bill that does not strip funding from — or "defund" — the President's executive amnesty.
There is no time to waste!!! House Leaders are already working behind the scenes to negotiate the December spending bill. To find the phone number of your Representative, click here.
If your Representative in the House supports the President's executive amnesty, but you still want House Leadership to hear your voice, call these House leaders now and tell them you insist that they defund the President's executive amnesty this December.
House Speaker John Boehner (R-OH)
202-225-0600
House Majority Leader Kevin McCarthy (R-CA)
202-225-4000
House Majority Whip Steve Scalise (R-LA)
202-225-0197
Sincerely,
-FAIR