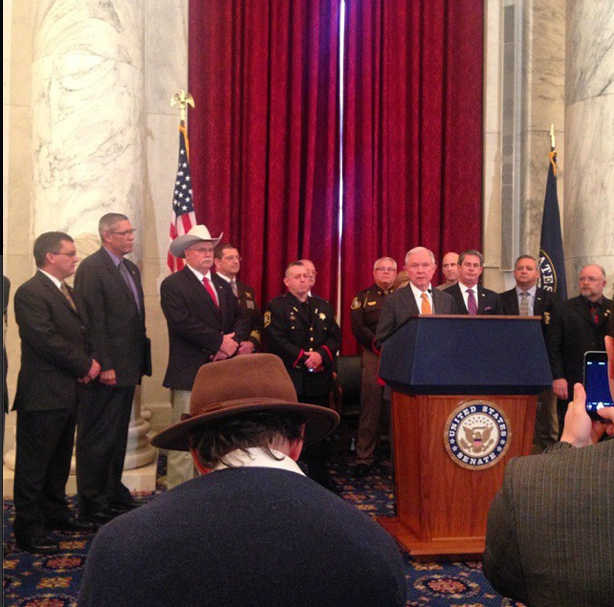 Sheriffs from across the nation traveled to Washington, D.C. this week to refute Obama's remarks that his amnesty plan had the support of law enforcement. Instead, the group of officers hammered down on the Department of Homeland Security's 10-point plan and added that the executive plot would further threaten public safety in their communities.
The sheriffs stood alongside three members of Congress, Sen. Jeff Sessions (R-Ala.); Sen. David Vitter (R-La.); and Rep. Marsha Blackburn (R-Texas). Many sheriffs unable to be present at the press conference were represented through the attending sheriffs. At one point, Sheriff Sam Page of Rockingham County, N.C., presented Sessions and Vitter with a list of 30 other sheriffs just in North Carolina, also furious over how the president has tied their hands in terms of enforcing immigration laws.
Among the event's key remarks:
"We've had 20-something-odd meetings in the White House this summer it's reported, by stakeholders, primarily business and special interests groups. Not once has the [National] Sheriffs' Association been invited," said Sen. Sessions.

"What we're facing in Texas and in this nation is a large 'Welcome' sign and a saloon-door mentality on our border,'" said Jackson County Sheriff Andy Louderback, president of the Texas Sheriffs' Association.

"For you and I as American citizens, when it comes to law enforcement, the law applies to you and I, yet when it comes to immigration, there is no law, because there are no consequences," said Pinal County Sheriff Paul Babeu, president of the Arizona Sheriffs' Association and board member of the National Sheriffs Association.

"The president talks about wanting to do the right thing; the right thing to do is to go by the rule of the law. You never go wrong when you're following the rule of law and you're abiding by the Constitution… The president talks a lot about fairness. Let me tell you what is not fair. It is not fair for out-of-work Tennesseans to have to compete for jobs with those that have chosen to illegally come into this country," said Rep. Blackburn.

"We must stop and roll back this illegal executive order, it's exactly the wrong policy because it's rewarding illegal crossers and when you reward something you're going to get more of it not less of it," said Sen. Vitter.

"When we can't secure our borders, something interesting happens in our country, every state becomes a border state and every town becomes a border town," said Rep. Blackburn.

"Two years ago, Border Patrol said there were 123,000 illegals apprehended right there, just in one year. That does not include those who got away. Two years ago, we had the largest drug bust in the history of our state, one of the largest narco busts in the country at the time, in Pinal County led by our sheriff's office. Two to 3 billion dollars and this isn't just marijuana, it's black tar heroin, methamphetamine and cocaine. That doesn't stay in Arizona; it goes all across the country and affects all Americans," said Sheriff Babeu.