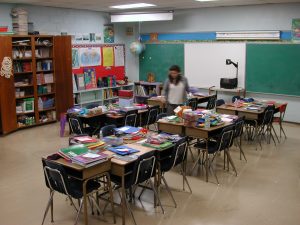 Politicians talk a lot about the nation's "broken immigration system." Usually they mean we don't let in enough immigrants to keep the narrow special interests that dominate Washington politics happy. What you don't hear them talk about is the effects the broken system is having on the localities where immigrants settle, particularly the strains that immigration, more especially illegal immigration, has on the nation's public school system. A new report from FAIR reveals that in the D.C. metro area alone, the cost of educating children who are limited English proficient (LEP) runs to $2.4 billion.
Cost In Translation: English Language Education in the Washington, D.C. Metropolitan Area breaks down the cost of LEP education in Washington, D.C. and six Maryland and Virginia school districts. These costs will only increase as the Obama administration circumvents the law to allow millions of illegal aliens to settle permanently in the U.S.
Among Cost in Translation's key findings:
Nearly half, 45.8 percent of the Alexandria, Virginia, public school system's budget is now devoted to the needs of LEP students who comprise nearly 30 percent of the student body. The Alexandria schools have experienced a 125 percent growth in its LEP population since the 2005-06 school year.
Fairfax County, Virginia, carries the largest cost burden in the area, spending more than $676 million a year on education and services for more than 33,000 LEP students.
Montgomery County bears the largest burden among Maryland school districts, spending more than $466 million on LEP students. Nearly 40 percent of Montgomery County residents speak a language other than English at home.
Throughout the D.C. metro area, education costs for LEP students are about 50 percent higher than for English-speaking students. The costs for recently arrived unaccompanied minors are an additional 25 percent higher than other LEP students.