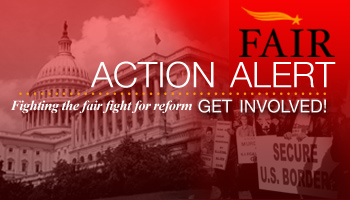 Executive Amnesty on Hold
Congress Must Act Now to Defund
On Monday, true immigration reformers scored a huge victory when Federal Judge Andrew Hanen issued a temporary injunction that prohibits the Obama Administration from expanding its executive amnesty programs until the lawsuit filed by 26 states challenging it is decided on the merits. Significantly, Judge Hanen ruled that the executive amnesty directly causes significant injury to states because of the taxpayer funded benefits and programs they will be required to provide to amnestied illegal aliens.
The ruling makes the case for defunding even stronger!
Call your Senators now!
Currently, the House-passed DHS funding bill that defunds President Obama's executive amnesties is stalled in the Senate because pro-amnesty Democrats are preventing the Senate from debating, or even offering amendments to, the bill. On three separate occasions, Senate Democrats unanimously voted against the motion to proceed to debate on the common sense House-passed DHS funding bill. In doing so, seven Democratic Senators (joined by pro-amnesty Senator Dean Heller (R-NV)) broke their promises to oppose the executive amnesty!
Time is of the essence, without action DHS funding runs out on February 27. This week Members of Congress are back home and it is critical they hear from you at their local offices.
Demand they vote YES on the motion to proceed to debate. Tell them there is no such thing as a "clean" funding bill for the Department of Homeland Security. Senators will either vote to fund President Obama's executive amnesty or to defund it.
Tell them:
You oppose President Obama's executive amnesty
You expect them to vote YES on the motion to proceed
You want Congress to stop the President's abuse of power, now and in the future
You demand that Congress act NOW to rein in President Obama's abuse of power and restore respect for our immigration laws.
Make your voice heard! To find your Senators' LOCAL offices, click here.
Sincerely,
-FAIR