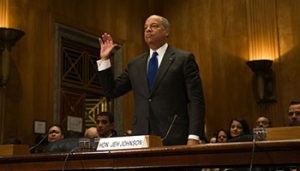 The Department of Homeland Security's deportation numbers are plummeting, and Secretary Jeh Johnson knows why. Testifying before the Senate Judiciary Committee on Tuesday, Johnson laid the blame, in part, on state and local policies that refuse to honor Immigration and Customs Enforcement (ICE) detainer requests.
According to Johnson, a key reason for the decline in deportation is "because of all of the resistance that we were receiving in state and local law enforcement to the Secure Communities program, something like 239 jurisdictions where resisting, cooperating with us in our enforcement activities."  And, since criminals are the only category of illegal aliens the Obama administration sees fit to deport, this poses a problem:  If ICE can't take custody of these criminals, Johnson explained, ICE can't deport them, hence the government is on pace to remove just 236,000 illegal aliens in FY 2015, even though Congress has provided the resources to deport 400,000.
The Obama administration has responded to this sort of state and local obstruction with a clear and unmistakable message: 'We don't care.' So far, they sued exactly zero of these 239 sanctuary jurisdictions (even though sanctuary policies are expressly forbidden under federal law), and withheld exactly zero dollars from law enforcement assistance to non-cooperative jurisdictions. That'll teach them. Instead, DHS has launched a charm offensive aimed at persuading mayors and chiefs of police to once again cooperate in the removal of criminal aliens who are arrested and charged with other crimes.
For good measure, Johnson signed a memo last November announcing that, "The Secure Communities program, as we know it, will be discontinued." Secure Communities was the primary mechanism for ICE finding out when some local law enforcement agency took a criminal alien into custody. In addition, the administration has all but terminated the congressionally mandated 287(g) program allowing state and local police to be trained to identify and detain potential deportable aliens.
A second reason for the decline in removals, cited by Johnson, is that border apprehensions are down. In March 2014, Johnson conceded that the majority of deportations were attributable to Border Patrol apprehensions at the border, who were turned over to ICE and counted as part of the agency's inflated deportation figures.
Johnson dubiously attributes the decline in border arrests to his department's enforcement strategies that discourage would-be illegal aliens from attempting to cross the border illegally. (Cynics might have other explanations for the decline in border arrests.) Of course, with at least 11 million illegal aliens living in the U.S., DHS could easily redirect resources to apprehending and removing deportable aliens from the interior of the country. But that hasn't happened. When President Obama came to office, interior enforcement accounted for about two-thirds of all removals; by 2014, that share had dropped to about one-third.
The inescapable conclusion is that there is really one reason why deportations are way down: For the past six years the Obama administration has systematically eviscerated all aspects of immigration law enforcement. We have a president who openly flouts the law and Congress that has thus far refused to hold him accountable.