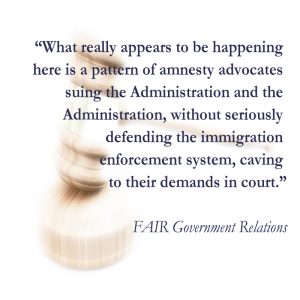 Homeland Security Secretary Jeh Johnson foreshadowed the government's release of even more illegal aliens Tuesday when he discussed the issue of family detention centers before the Senate Judiciary Committee. At first, he seemed to defend the creation of new family detention space after last year's surge along the Southern border. But then Johnson said he was "sensitive to family detention" issues and that he "hears the concerns raised" by pro-amnesty lawmakers and organizations. Indeed, Secretary Johnson said he wants to "continually evaluate and re- evaluate" detention policy. Make no mistake, this is a warning to all who care about immigration enforcement that the Obama Administration is devising ways to undermine whatever's left of our immigration detention system.
But if this weren't bad enough, what some listening to the exchange might not have heard was Secretary Johnson's very brief reference to a California lawsuit summarized in the article below. In that lawsuit, illegal aliens claimed that the family detention centers – created for the purpose of keeping families together – are a violation of a legal settlement entered into by the Clinton Administration. This is the same settlement that has handcuffed the Border Patrol's ability to quickly remove illegal alien minors along the Southern Border. On Friday, U.S. District Judge Dolly Gee handed the illegal aliens, their lawyers, and the Department of Justice her "tentative" ruling that it is "inappropriate to hold a child and accompanying parent unless there is a flight or safety risk." She then told them they have 30 days to negotiate (another) settlement. The Department of Justice, led by the recently confirmed Loretta Lynch, is now undertaking the effort to negotiate away the government's authority to detain illegal alien families, and potentially all minors.
Even more egregious, during Tuesday's hearing, Secretary Johnson – in theory the chief immigration enforcement officer for the United States – said he was helping the Department of Justice in its task. The irony of watching Secretary Johnson defend family detention space and claim Homeland Security is prioritizing the deportation of new arrivals while simultaneously participating in an effort to strip the Department of its detention authority was not lost on us. DHS itself admitted last year that 70 percent of illegal alien families released were no-shows in court. (FAIR Legislative Update, Sept. 30, 2014) So clearly they are a flight risk and the Obama Administration understands that detention is a critical element of effectively removing illegal aliens (however you might prioritize them on paper).
However, more than detention doublespeak, what really appears to be happening here is a pattern of amnesty advocates suing the Administration and the Administration, without seriously defending the immigration enforcement system, caving to their demands in court. The Department of Justice negotiates some crazy settlement and then the Department of Homeland Security points to the settlement, and says its hands are tied, it simply has to release the illegal aliens. Another example of this was a settlement entered into by the Obama Administration last fall that actually let deported illegal aliens return to the U.S. (FAIR Legislative Update, Sept. 23, 2014) We've heard about many additional cases where the federal government simply failed to defend the law; this is essentially abandoning any argument that illegal aliens should be deported, without having to announce an actual policy change.
We'll keep our eyes open for the details of this settlement and see what the Obama Administration's real position is.
'The beginning of the end' for Obama's migrant family detention?

"A federal court looks to be on the verge of delivering a significant blow to the Obama administration policy of detaining mothers and children who say they're fleeing violence in their home countries, according to attorneys representing the detained families. U.S. District Judge Dolly Gee in California distributed a 22-page tentative ruling Friday concluding the administration policy violates parts of an 18-year-old court settlement regarding the detention of migrant children, according to memos that outline the tentative ruling and were obtained by McClatchy."