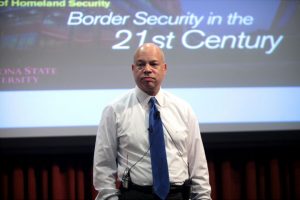 On Tuesday, during Homeland Security Secretary Jeh Johnson's testimony at a House Judiciary Oversight Hearing, Congressmen Trey Gowdy (R-S.C.) pointed out the lack of factual basis for a claim Jeh Johnson has often made in the past in favor of amnesty. In speeches in the past, when there is no one to call him out for his failures of logic, Secretary Johnson has asserted that amnesty would benefit homeland security, because illegal aliens would "come out of the shadows" and become accountable to the government. He would say this though even though it is unreasonable to think that the illegal aliens who identifiably pose security threats would identify themselves to the government when they know they can't pass a background check.
Congressmen Gowdy asked Secretary Johnson to account for these statements. He asked Secretary Johnson if he recognized his own words: "I want people who are living in this country undocumented to come forward, to get on the books and subject themselves to a background check so I can know who they are… from a Homeland Security perspective, I want people to come forward." Then Congressman Gowdy asked Johnson if he thought it was realistic to think someone like the alleged killer of Kate Steinle,  Juan Francisco Lopez-Sanchez, who Gowdy called "a career criminal," would have come forward, knowing he wouldn't be able to pass even the most lenient of background checks.
In response, Jeh Johnson said, he never actually meant to imply that amnesty would encourage illegal aliens who pose security risks to come forward themselves—despite the fact that any reasonable person would absolutely have interpreted his often repeated line in that way. What he really meant, he claimed at the hearing with a straight face, was that he was talking about "people who we hope will report crime," not, apparently, the criminals themselves.
Amazing how Secretary Johnson was able to so casually jettison his often expressed reason why amnesty was necessary "from a homeland security perspective." As someone who has listened to many of his variations on this line since he became Homeland Security Secretary, I can say, it's simply not a believable interpretation that he meant to convey such a meaning with his comments.
In addition, his new reason for arguing that amnesty has homeland security benefits is in fact as wrong as the one he disavowed. The idea that the immigration laws must be disregarded in order to encourage immigrant communities to report crime has been used to justify "sanctuary" cities as well. But amnesty advocates lack evidence backing it up…
See next week's Legislative Update for a full summary of the hearing…