Pope Francis is one of the most revered figures in the world. No one can doubt his compassion for the poor and the suffering around the world. When he addresses a joint session of Congress on Thursday, he is expected to pressure lawmakers to "open America's doors to struggling immigrants rather than build bigger fences to keep them out," according to USA Today.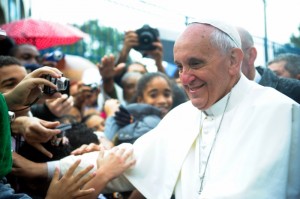 Here are a number of things that need to be kept in mind as we listen to the pope address immigration policy:
The pope views immigration solely from the perspective of the immigrants. Obviously, no one migrates unless it is substantially in their interest to do so. Thus, if you view immigration from their perspective it is always positive. The reason every nation on earth has immigration laws is because they recognize that what is in the interests of people seeking to settle in another country is not always in the interests of people in the receiving country. In fact, the people who are harmed the most in the receiving countries are those who are already struggling – precisely the sort of people the pope most identifies with.
However sincerely Pope Francis's views are motivated by a sense of charity, the policies he advocates for are well-meaning but misguided. Mass immigration costs many Americans jobs, wages, access to quality education for their children and other vital public services. There is no moral or ethical system in the world that allows individuals or institutions to be charitable with other people's resources. While the United States has an obligation to assist those in need around the world, that assistance should not come on the backs of millions of Americans who are struggling to meet the vital needs of their own families.
Francis, as the leader of the Roman Catholic Church and the first Latin American pope, can play an influential role in bringing about badly needed political, social and economic reforms in countries from which large numbers of people feel the need to emigrate. The role of Congress is to safeguard the essential interests of the American people in immigration and other policies.
Americans share Francis's compassion for people around the world and believe our country should play a constructive role in helping them. However, mass migration cannot solve the problems of people around the world; it can only serve to undermine the interests of the American people.