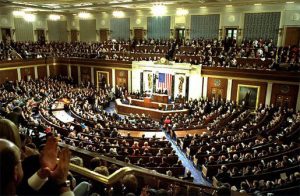 On Tuesday, Senate Democrats killed the "Stop Sanctuary Policies and Protect Americans Act" (S. 2146) when 44 of them plus pro-amnesty Sen. Mark Kirk (R-Ill.) voted against the procedural motion to bring the bill to the Senate floor. Known as a cloture vote, the measure failed 54-45 because 60 "yes" votes are needed to overcome a filibuster. FAIR blasted these Senators most notably, Sen. Barbara Boxer (D-Calif.) who was Kate Steinle's Senator, after she cast the 41st "no" vote to officially kill the bill.
However, Senate Majority Leader Mitch McConnell's "yes" vote is equally as damaging to the effort to hold sanctuary cities—State and local jurisdictions that defy federal immigration law—accountable. According to Senate Rule XIII, "When a question has been decided by the Senate, any Senator voting with the prevailing side or who has not voted may, on the same day or on either of the next two days of actual session thereafter, move a reconsideration." Translated into English: when a procedural vote fails (like the S. 2146 vote), only a Senator who voted against cloture ("the prevailing side") is allowed to bring up the bill for another vote (known as the motion to reconsider).
In practice, the Senate Majority Leader initially casts a "yes" vote but switches to a "no" vote once it's apparent the bill will fail. Harry Reid (D-Nev.) did this all the time when he was Majority Leader. After Sen. Boxer cast the 41st "no" vote it was obvious that S. 2146 was going to fail. Yet, McConnell did not switch his vote from "yes" to "no" which means he cannot bring up the bill later for another vote. This curious decision by McConnell—who is well versed in the rules of the Senate—suggests that he viewed Tuesday's vote as merely a show vote rather than a substantive issue he was willing to fight for.