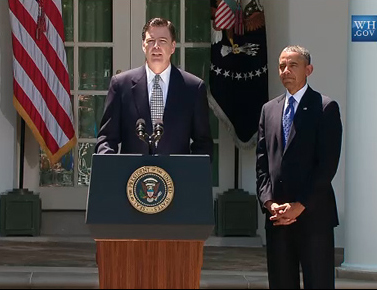 In yet another blow to the credibility of the government's "rigorous" national security vetting process, FBI Director James Comey told the Senate Judiciary Committee on Wednesday that Tashfeen Malik, who would later join her husband in killing 14 people in San Bernardino, was already radicalized before being granted entry to the United States under a K-1 fiancée visa.
"These two killers were radicalized for quite a long time," Comey said. "Our investigation to date shows that they were radicalized before they started courting or dating each other online, and as early as the end of 2013, were talking to each other about jihad and martyrdom before they became engaged and married and were living in the U.S."
The FBI director's revelation comes amid reports that Malik also gave incorrect address information on her K-1 visa application, possibly in an effort to conceal ties to jihadist elements in the north-central province of Punjab in Pakistan.
"This is yet another example of the failure of the screening process for those entering the United States," said Sen. Charles Grassley (R-Iowa), chairman of the Senate Judiciary Committee. "Our government apparently didn't catch the false address in Pakistan she listed on her application or other possible signs that she was radicalized or an operative."
If Malik talked about jihad for years and lied on her visa application without raising any red flags, then it is clear that the current national security vetting process cannot be trusted to detect individuals who pose a threat to the American public. Nevertheless, the "rigorous" vetting process that allowed Malik entry is the same kind of process that will be used to vet tens of thousands of Syrian refugees the Obama administration is seeking to resettle throughout the U.S.