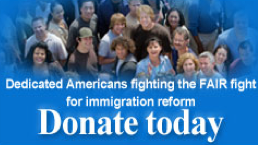 As I reflect on 2015 and all we have accomplished, I want to thank you for your commitment to responsible immigration limits and enforcement of our immigration law. This year we have been able to join forces with legislators, state officials, and local activist groups to improve immigration policy. Our success this year would not be possible without you and countless other dedicated Americans.
But we aren't done yet.
Our opponents are not giving up and neither should we. Amnesty enthusiasts are already gearing up for 2016 with Mark Zuckerburg's lobby group gunning to solidify amnesty for 11 million illegal aliens through the 2016 election. It is estimated he intends to spend upwards of $10 million on advertising to meet this goal.
They must be stopped.
That's why I encourage you to make your final 2015 tax-deductible gift of $25 or more to FAIR so that we might continue on our path in 2016 to fight Amnesty lobbyists who have no regard for your security and don't serve your interests.
In 2016 FAIR is launching multi-million dollar ad campaigns across America to mobilize even more Americans in our fight. A generous donor has even committed to match 100% of all gifts so your gift will have double the impact.
I look forward to renewing our fight in 2016 with you by our side. Thank you in advance for your loyal support.
Dan