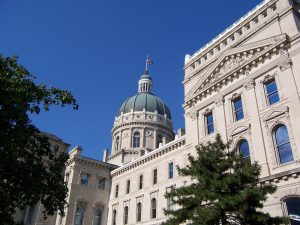 Do you know that there's a free federal web-based system called E-Verify that allows employers to verify that they are not employing illegal aliens?
Indiana State Senator Mike Delph (R-Carmel) has introduced Senate Bill 285 (SB 285), which would require employers to use this vital program to ensure they have a legal workforce.  Unscrupulous employers caught repeatedly hiring illegal aliens over American workers could have their business license revoked under SB 285.
This critical piece of legislation will be heard Wednesday, January 27 at 9:00AM before the Indiana Senate Committee on Pensions & Labor.  The hearing is scheduled to take place in room 233.
The amnesty lobby plans to make its opposition known during the hearing—DON'T let its voice be the only one lawmakers hear! Please attend this hearing and tell Members that you support a legal workforce.
Tell them that legislation requiring the use of E-Verify is good public policy. The benefits include:
Taking away the jobs magnet of illegal immigration;
Removing competition for scarce jobs;
Boosting wages; and
Adhering to the Rule of Law.
For more information about what you can do, contact your FAIR Field Representative!
Sincerely,
FAIR
P.S. If you cannot attend the hearing in person, click here to find your Indiana State Senator to voice your support!  They need to hear from YOU!