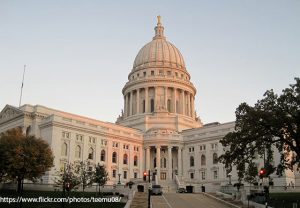 The Wisconsin Assembly passed Assembly Bill (AB) 450 on Tuesday, February 16, to support the rule of law and prohibit localities in the state from instituting sanctuary policies that impede federal immigration enforcement. AB 450 was approved overwhelmingly in the Assembly, by a vote of 62-35.
Specifically, AB 450 bans localities in Wisconsin from having policies that prevent local officials from inquiring into the immigration status of arrestees, maintaining immigration status information, or communicating that information to federal immigration officials. The bill also requires local law enforcement to have the authority to cooperate with federal immigration officials on immigration enforcement matters. Any locality that violates AB 450 may be subject to a reduction in state shared revenue funding by between $500 and $5,000 per day of violation, depending on the locality's population.
Representative John Spiros (R-86), sponsor of AB 450, said he was motivated to introduce the legislation following the fatal shooting of Kate Steinle in San Francisco, California, last summer. Steinle was killed by an illegal alien who had previously been released from local custody pursuant to San Francisco's sanctuary policy. Because many sanctuary policies prohibit law enforcement officers from transferring criminal aliens already in their custody to federal custody, law enforcement officers are forced to release criminal aliens back into the community, thus subjecting the general public to a wide variety of public safety risks. "We're not trying to target immigrants, illegal immigrants, whatever. Basically this bill is to protect all of us," said Representative Spiros.
AB 450 has yet to be scheduled for a vote in the Senate, but could be taken up in the upcoming days. The Wisconsin Senate must approve AB 450 before it can be sent to Governor Scott Walker's desk for his signature.