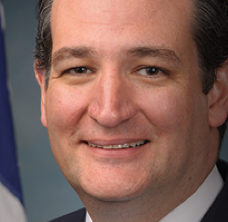 Senator Ted Cruz (R-TX), who is seeking the Republican Party's nomination for president, released an immigration plan based on three central facets: securing the border, restoring the rule of law, and reforming legal immigration to protect Americans. (Ted Cruz Immigration Plan) FAIR offers the following analysis of the plan on five key immigration issues: amnesty; legal immigration; border security; interior enforcement; and taxpayer benefits to illegal aliens.
Amnesty: In his plan, Cruz points out that President Obama has issued at least 20 executive memoranda that grant amnesty, ignore the law, and worsen our immigration problems. He pledges to "shut down President Obama's unconstitutional amnesty on day one" and "end the lawlessness with the stroke of a pen."…
Read more of this analysis on Ted Cruz's stand on immigration on FAIRus.org: Where Do the Presidential Hopefuls Stand on Immigration?