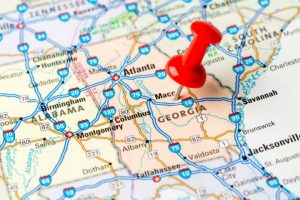 The Georgia Senate passed SB 269 on Friday, February 26, underscoring the Peach State's reputation as a leader in the fight against illegal immigration.  Indeed, Georgia already has several pro-immigration enforcement laws on the books, which SB 269 by Sen. Jesse Stone (R-23) serves to strengthen.
Specifically, Georgia law already requires all public, and private employers with more than 10 employees, to participate in the federal E-Verify employment eligibility authorization program.  Moreover, Georgia requires state and local governments to use the federal SAVE system to verify the lawful presence of individuals before administering public benefits.
To enforce these provisions, Georgia law requires agencies to submit annual compliance reports. If the entity subject to the compliance report is found in violation of the law, the state may require certification of compliance to receive funding.
In addition to its employment and public benefit verification laws, Georgia also takes the critical step of prohibiting local governments from instituting sanctuary policies.  Specifically, current law prohibits jurisdictions from restricting public employees from cooperating with federal officials or law enforcement with regard to reporting immigration status information.
SB 269 strengthens these current laws in two key ways.  First, the bill adds Georgia's anti-sanctuary provisions to the list items for which local governments must issue annual compliance reports.  Second, it amends current law by asserting that the state shall require certification as proof of compliance to receive funding.
In short, SB 269 would make it so that jurisdictions in Georgia that refuse to comply with state law prohibiting sanctuary policies, requiring E-Verify, and directing the use of the SAVE system, would lose state funding.  The Senate overwhelmingly passed the legislation, 49-2.
The Georgia Senate also approved a second immigration bill Monday, February 29.  Senate Bill (SB) 6 would stop illegal aliens granted deferred action under President Obama's executive amnesty from receiving standard driver's licenses in Georgia, and instead requires deferred action recipients to receive "driving safety cards" or "special identification cards." Licenses or identification cards under the proposal will also indicate that the card holder does not possess lawful status.  The Georgia Senate approved SB 6 by a 37-17 vote.
Senator Josh McKoon (R-29) introduced Senate Bill 6 to close the unintentional loophole that allows illegal aliens to receive regular Georgia driver's licenses.  Currently, Georgia law allows driver's license applicants to present documents showing a grant of deferred action to meet its lawful presence requirement. "We have very little in the way of identity verification for people that are receiving these licenses and who have no lawful status," Senator McKoon commented just before the vote.
"Previously, Georgia law restricted illegal aliens from getting a driver's license," Senator McKoon said last year, while discussing a similar proposal that would have revoked driver's licenses from deferred action recipients all together. "When the President created the 'deferred action status' class, he deliberately created a loophole to make millions of illegal aliens eligible for Georgia driver's licenses and other public benefits."
A 2015 poll conducted by Rosetta Stone Communications revealed that Georgia voters oppose allowing illegal aliens, even those who have received deferred action under President Obama's executive action, to receive driver's licenses. Sixty-four percent of registered voters in Georgia supported legislation to prevent illegal aliens with deferred action from receiving driver's licenses in the state, with only 21% of voters opposing.
Currently, only 12 states and the District of Columbia have laws that grant driving privileges to illegal aliens. However, President Obama's executive amnesty, if allowed to go into effect, will make illegal aliens eligible for driver's licenses all 50 states, in addition to shielding illegal aliens from deportation and rewarding them with work authorization.
Both bills now go to the Georgia House, where Republicans have a margin of 118-60. The Georgia General Assembly adjourns March 31, giving the lower chamber a month to move on the legislation.  Stay tuned to FAIR for updates….