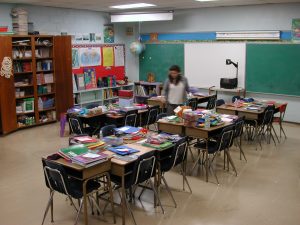 In Boston, high school students recently walked out of school to protest budget cuts. In Lexington, Nebraska, school officials lowered graduation standards to accommodate an influx of immigrant students with limited English fluency. And, in a suburb of Washington, D.C., the NAACP threatened to sue the school district over plans to create facilities for newcomers with limited English proficiency.
These events portend the changes that are coming to our overburdened public school systems across large parts of the country. The impact of legal and illegal immigration will have profound effects on our schools and society.
Students with Limited English Proficiency (LEP) are the fastest-growing segment of the public school population and few districts are prepared for them. Missouri, for example, will need to hire 912 new certified LEP teachers in the next five years – if they can be found – at a cost of more than $43 million. The taxpayers of California must come up with almost $1.2 billion to hire more than 17,000 certified LEP teachers over the next five years.
These issues will continue to fester, since schools are beginning to absorb 127,000 unaccompanied alien minors (UAM) that crossed the border since 2014 (and those are just the ones the Border Patrol apprehended). The federal government sent 1,888 UAMs to Prince George's County, Maryland, 704 to Boston and 208 to Omaha.
Beyond the traditional immigrant magnets, districts in the heartland are confronting the issue of serving a population with limited skills. Lexington, Nebraska has "experienced a large increase in student enrollment, which was not anticipated," according to officials there. From a budget of $68 million in 2011, expenditures for 2014 rose to almost $81.5 million.
Omaha's Westside school district faces a $5.4 million shortfall this year and projects teacher layoffs will be necessary next year to reduce the deficit. Despite this, the district still plans to hire a new ELL teacher. Statewide, it will cost almost $4 million to hire the necessary teachers Nebraska schools will need to serve this population in the next five years.
In Boston, almost one out of every three students in the public schools is an English Language Learner. The cost to educate these students rose from $9.1 million in 2014 to $13.6 million in 2015 despite a drop of 775 ELL students, suggesting that the schools are overwhelmed and cannot properly manage the costs associated with this needy population.
The influx of immigrants hurts African-American students the most. By all indicators, black students are performing poorly, but resources are being diverted from them to help new immigrants, including those here illegally. When Prince George's County, Maryland, proposed building a school and converting part of another facility to cater to ELL students, the NAACP blustered about initiating a lawsuit, but has since backed off.
As school districts scramble to serve LEP students, there will be winners and losers. LEP teachers win. Students and society lose. LEP pupils are progressing slowly and the achievement level of all students in every subject is low. The next installment of this blog will detail student achievement levels and break down the staggering potential cost of hiring ELL teachers to serve this burgeoning population. Thanks in part to the open borders crowd, the future looks bleak.