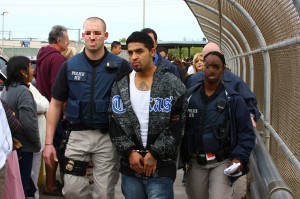 Last week, the Washington Post interviewed Philadelphia pastor Father John Olenik regarding the recently created hotline for illegal aliens, maintained by the Philadelphia-based New Sanctuary Movement, an illegal alien advocacy organization. Father Olenik reported the hotline was created earlier this year after ICE announced its intentions to ramp up enforcement efforts against aliens illegally residing in the United States, in order to provide support to illegal aliens involved in or witnessing ICE enforcement raids.
Most notably, however, Father Olenik noted that while the hotline has received calls about individual deportation cases, the city of Philadelphia has not seen any mass raids targeting Central American families. Father Olenik provided the Post with a potential explanation for the lack of ICE enforcement action in the city. "When the raids were first announced in January, we organized to gather letters from over 275 Pennsylvania clergy and religious heads in opposition to the raids, held actions at ICE, and won a Philadelphia City Council resolution condemning the raids. We believe that these organized actions send a direct message to ICE that deportations are not welcome in our city and state, and hopefully can continue to play a preventative role to avoid future mass raids," explained Olenik.
A more likely explanation for the lack enforcement actions in Philadelphia, however, is not that the New Sanctuary Movement, and related organizations, scared ICE away from carrying out its mandate, but rather that the ramp up of enforcement efforts by the agency itself was a farce. As reported FAIR earlier this year, ICE has only issued final orders of deportation to a mere .001 percent of Central American migrants who have entered the country illegally since 2013, which totals about a mere 121 illegal Central American aliens, nationwide. Additionally, records provided by ICE indicate that removal numbers dropped by over fifty percent in 2015, with only 235,413 deportations, compared to 486,651 in 2014, despite receiving a large increase in the agency's operating budget. ICE has shown a clear intent to minimize enforcement of the law to the fullest extent possible, and the City of Philadelphia is no exception.