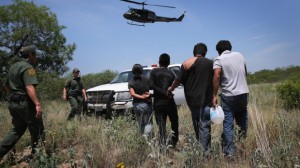 Despite strong opposition by open border proponents, Texas lawmakers passed an unprecedented border security funding bill last year that assured citizens in the Lone Star State that the legislature was serious about combatting illegal immigration and drug trafficking. Now they are continuing that fight by calling for the federal government to do its part and invest approximately $1 billion into needed security and Border Patrol improvements.
"There's not enough border patrol agents [and]there's not enough National Guard personnel to cover this place 24/7," Texas Department of Public Safety (DPS) Director Steve McCraw told KXAN, Austin. He added that the state investment has already resulted in drug seizures worth millions of dollars and a noticeable drop in crime rates around the Rio Grande Valley.
Hoping to build on this success, Texas DPS is requesting that $290 million of the total be allocated to the hiring of 250 additional Border Patrol agents. The rest of the money would go toward technological advancements on the border such as aerial monitoring, adding 5,000 cameras and replacing more than 1,200 vehicles.
An effective border strategy must rely heavily on the use of technological resources. The U.S.-Mexico boundary is too long and ecologically diverse to secure with only a fence and spread out patrols. Complimenting the border fence with an increase in the number of Border Patrol agents and advanced gadgets like motion detection sensors and cameras is a more effective strategy that has helped nations like Israel protect the lives and interests of their citizens.
However, in addition to beefing up border security, the U.S. must also remove the ability for illegal aliens to legally obtain state and federal benefits that currently incentivize illegal immigration. Securing the southern border while still promising incentives like driver's licenses, healthcare discounts, in-state college tuition and "sanctuary city" policies will simply encourage them to find another, likely more dangerous method of entering the country. A balanced policy of enforcing our current immigration laws, securing the border and removing existing incentives is the best way to reduce the amount of illegal immigration into the United States.