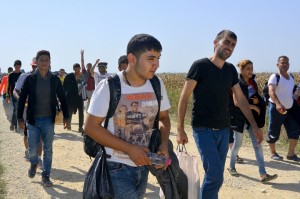 The State of South Dakota is opting out of Obama administration's push increase refugee resettlement in the upcoming year. South Dakota Governor Dennis Dauggaard (R) was among the majority of governors who asked the White House to "suspend all plans to resettle Syrian refugees," in a letter echoing concerns by federal intelligence sources of the U.S. government's inability to properly vet applicants from the failed state.
Refugee resettlement in South Dakota is managed solely by Lutheran Social Services of South Dakota, as South Dakota is one of twelve states to formally withdraw participation in the U.S. Refugee Resettlement program. Lutheran Social Services of South Dakota resettles about 420 refugees every year in the state, from countries including Somalia, Darfur, Afghanistan, and Iraq. Since 2002, a total of 5,334 refugees from 31 countries have been resettled in South Dakota. The organization, however, is resisting pressure from the federal government to increase their cap as a result of the widespread security concerns by South Dakotans and their state and local leaders.
Opposition to refugee resettlement soared this year following recent terrorist attacks globally by extremists posing as Syrian refugees. The most notable attack occurred in Paris, France, last November, resulting in 130 fatalities.  Despite growing concerns, the Obama Administration announced last week that it plans to increase refugee admissions by nearly 30 percent compared to last year, and a 57 percent increase since fiscal year 2015. Alarmingly, the Obama administration announced this increase after weakening security standards for admission into the country in 2014, by allowing aliens that are known to have provided "material support" to individuals or organizations that engage in terrorist activity into the United States if that support was either "limited" or "insignificant." The sharp increase in refugee admissions will likely accommodate many Syrians and people from other countries known to harbor terrorists.