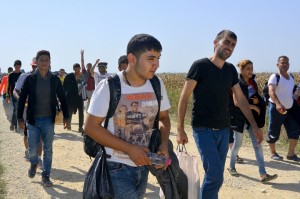 Rep. Scott Perry (R-Pa.) recently introduced legislation to give state governments approval over the resettlement of refugees. H.R. 6110, the Allow State Sovereignty Upon Refugee Entry (ASSURE) Act is a response to the recently-announced plan from the Obama administration to drastically increase the number of refugees accepted by the United States to 110,000 in the upcoming fiscal year. The new target is a 29 percent increase over the 85,000 refugees accepted this fiscal year and a 57 percent hike over the 70,000 refugees allowed per year from 2013 to 2015.
The ASSURE Act requires the Office of Refugee Resettlement (ORR), a division of the Department of Health and Human Services (HHS), to submit a detailed plan to each state where refugees are to be resettled.  This plan must list costs expected by the state for housing, education, health care, and any other subsidies. In addition, vaccination records, health records, criminal history, and possible terrorist ties of refugees must be disclosed in the report. After submittal of the plan to the state government, it must be ratified by the state legislature and signed by the governor in order for refugee resettlement to proceed.
While federal law states that the ORR Director "shall consult" with state and local governments "concerning the sponsorship process and the intended distribution of refugees among the states and localities before their placement," the Obama administration has largely ignored the justifiable concerns of state and local leaders across the country. These leaders are told by bureaucrats in Washington to simply accept refugees regardless of the financial ramifications and without any assurance that they have been properly vetted. The ASSURE Act simply puts the power back in the hands of the states, giving them the right to approve or reject refugee resettlement.
To learn more about this important piece of legislation, take a moment and listen to FAIR's interview with Rep. Perry: