Tomas Martinez-Maldonado, a 38 year-old illegal alien from Mexico, allegedly raped a 12 year-old girl on a Greyhound bus last month.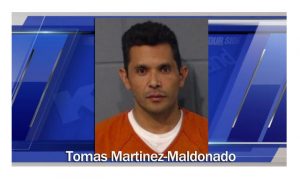 After confirming the alleged crime took place somewhere along I-70 in Geary County, Kansas, the suspect was taken into custody and local authorities alerted U.S. Immigration and Customs Enforcement (ICE). In an email to the Kansas City Star, ICE explained that Martinez-Maldonado has been previously deported back to Mexico an astounding 10 times since 2010, adding this poor young girl to the list of victims of illegal alien crime that should have been prevented.  ICE also stated that the illegal alien has a 2013 federal felony conviction for illegal re-entry into the U.S., making him an enforcement priority for the agency.
He is currently jailed in Geary County on a $100,000 bond, and is set to appear this week for a preliminary hearing. Let's hope he remains in custody unlike so many other illegal aliens charged with similarly vicious crimes.