"I am angry.  I wouldn't give them nothing – give them the food and the water – but I wouldn't give them the press, it's a joke."
For Sabine Durden whose son was killed by a criminal alien, protests like the DACA hunger strike at a D.C. jail (see previous story for more information) are baffling.   Four DACA recipients remain on hunger strike, refusing to cooperate with law enforcement.  They've refused to give their names or fingerprints, instead, demanding that Congress pass a "clean Dream act," so they won't be separated from their families and friends.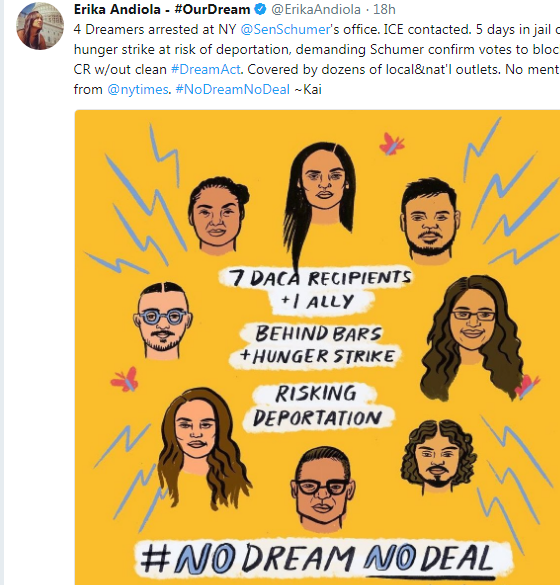 "Whenever I hear illegals talk about their families, that they'll be separated.  Well, what about mine?  Where is my sanctuary place?  My son's dreams were destroyed, I can't call him, and I can't visit him."
Durden's son 30-year-old Dominic Durden of Riverside, Calif., lost his life in July of 2012 when he was hit by a criminal alien drunk driver.  Dominic was riding a motorcycle on his way to work as a 911 dispatcher when Juan Zacarias Tzun of Guatemala ran into him in a truck "and hit him so hard that it threw him into a wall, onto the sidewalk and killed him instantly."
Tzun had several prior arrests including felonies and two DUI's he also had been deported at least once.  Durden says he tried to flee the scene "but two Marines, who witnessed the horrific scene chased him down and stopped him."  Tzun was convicted of vehicular manslaughter without gross negligence, a misdemeanor.  He was deported to his native Guatemala.
"It took us a year and a half to get him deported," says Durden. "But his family is in Riverside and I have reliable sources that tell me he's back.  I know I will see his face on TV again when he kills somebody else.  Because he never apologized, he never owned it, he told the judge 'well God creates life and God takes life and I was on my way to work.'"
The road to healing has been long for Durden and especially difficult during the holidays.
"Now it's Christmas and there's an empty chair, I have no family left because of this. So if somebody is trying to explain to me how we need to feel empathy and sympathy for these poor people I'm fresh out."
Durden legally immigrated into the United States from Germany, since losing her son she's taken a stronger stance against open borders and as a result has been called a racist or "Hitler's bride," by some open borders activists.
"This is not about feelings or about race, my son was half black… this is about law and order.  I'm going to continue this fight because I'm tired of hugging families who have been destroyed by this."
https://soundcloud.com/fairfederation/fair-talks-to-angel-mom-sabine-durden