Open borders activists are rallying against President Trump as he marks his first visit to California as President.  On Monday around 250 activists protested against Trump in San Diego.
VIDEO: San Diego residents protest ahead of US President Donald Trump's trip to California, a state at the forefront of resistance to his anti-immigration agenda, for what is almost certain to be a contentious trip.
Read the full story: https://t.co/9pQ7wqSCg2 pic.twitter.com/elILZWBZ10

— AFP news agency (@AFP) March 13, 2018
President Trump is in California visiting eight towering prototypes of his planned border wall between the U.S. and Mexico.  The prototypes range in height from 18 to 30 feet tall and feature a variety of designs.
Trump's visit comes amid a war of words between his administration and state officials in California who refuse to cooperate with federal immigration authorities.  California has declared itself a "Sanctuary State," and has passed laws that prevent police and employers from cooperating with Immigration Customs and Enforcement (ICE).  The Department of Justice (DOJ) is suing California to block several sanctuary laws that protect illegal aliens.  Democratic Governor Jerry Brown has denounced the president, claiming the Trump administration is "full of liars" and that the DOJ's lawsuit is akin to an "act of war."
After his tour of the border today, President Trump is due to visit Los Angeles for a high-dollar campaign fundraiser.  This has prompted fears of rioting by illegal alien activists and the Los Angeles Police Department says they are "prepared for anything."
A Facebook group called "Trump Not Welcome in LA" is planning to stage a massive protest in the Beverly Hills area, close to 1,000 people are expected to take part in it.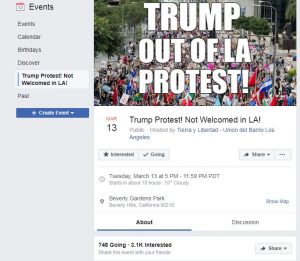 In 2016 a protest outside a Trump campaign rally in Costa Mesa, California turned violent after illegal alien activists smashed a police car, authorities were forced to close several streets and 20 people were arrested.