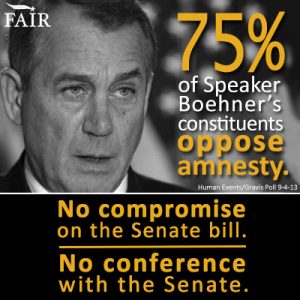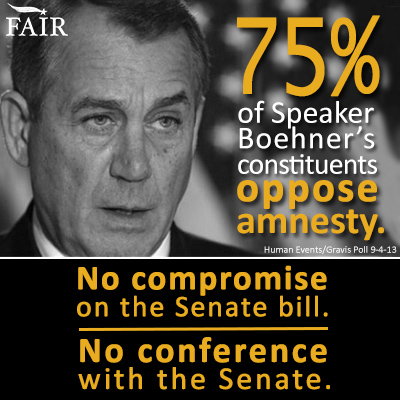 True immigration reformer, Texas Republican Congressman Steve Stockman, has drafted a letter to House Speaker John Boehner asking him to refuse to go to conference with the Senate's mass amnesty bill.
When the Senate and House pass different bills, they must resolve the differences in the legislation through a "conference committee." After the conference committee reaches agreement on identical bill language, the newly-agreed upon legislation goes back to each chamber to vote for final passage.
Representative Stockman is concerned that under House of Representatives rules, if the House goes to conference with the Senate amnesty bill without having first taken a position on a specific issue, they will be forced to accept the Senate bill's broad pro-amnesty and open borders provisions. "House Republicans must avoid any actions which could undermine the House's intention on passing narrowly-focused immigration-related bills," Stockman's letter reads.
Indeed, as Rep. Stockman's letter points out, Senate amnesty proponents would love nothing more than to trap the House into a conference. "If we go to conference, we would win," proclaimed Senate Majority Leader Harry Reid. Gang of Eight Leader Sen. Chuck Schumer, who took part in the 1986 amnesty's conference committee, has echoed this sentiment. "[T]he end game strategy is to get a conference with the Senate (comprehensive) bill by having the House pass a group of bills."
Thus far, House GOP leaders have pushed five immigration-related bills through various committees of jurisdiction. A limited border bill (H.R. 1417), a mandatory E-Verify bill (H.R. 1772), an agricultural guest worker/amnesty bill (H.R. 1773), a "high-skilled" visa bill (H.R. 2131), and an interior enforcement bill (H.R. 2278). House Judiciary Chairman Bob Goodlatte (R-VA) has also promised to push four additional bills through his committee relating to a DREAM act, a "low-skilled" guest worker program, refugee/asylee reform, and a broad amnesty bill, all but guaranteeing we will see a mass legalization bill from the House GOP one way or another…
To read Rep. Stockman's letter, click here.