On the 8th Day of Amnesty, Obama's ICE leadership gave to me…
872,000 illegal aliens ordered deported that are still in the U.S.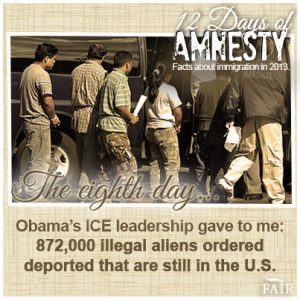 As of July 2013, there were 872,000 aliens remaining in the U.S. despite having been issued a final order of removal by Immigration and Customs Enforcement.
This figure is an indictment of the federal government's commitment to immigration enforcement. Those already ordered deported are fugitives from the law and low hanging fruit. If the Department of Homeland Security (DHS) cannot even remove them, why should we believe their claims that they are diligently enforcing immigration laws? Moreover, these 872,000 cases represent a callous waste of taxpayers' money that was spent leading up to their deportation orders.
Of course, the fact that it is unrealistic to deport everyone who is in the U.S. illegally is also an excuse touted by the pro-amnesty crowd for the failure of this administration to even remove people with pending deportation orders. Along with the Obama administration, they claim there just aren't enough resources to enforce current immigration laws, resulting in the need to "prioritize" certain illegal aliens for removal over other immigration law violators.
The excuse only fuels further illegal immigration. Neither FAIR nor any other rational participant in the immigration debate has ever called for mass deportation. However, when your immigration policy is amnesty, potential illegal aliens from around the world take notice. Sporadic enforcement yields inconsistent compliance with the law.
And, it is not merely coincidental that although President Obama's DHS says there's not enough money to enforce the law department resources are being used to administer backdoor amnesty for entire classes of illegal aliens. At the same time, DHS has removed very effective state and local enforcement cooperation agreements from its budget.