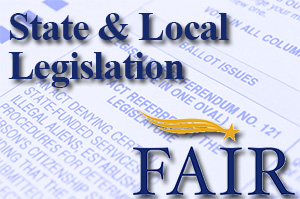 From Connecticut to California, state legislatures are moving on immigration bills. See FAIR's State & Local wrap-up to see what's going on across the country.
Alabama
Senate Bill 286, which prohibits illegal aliens from obtaining handgun permits, passed both the House and Senate and has been delivered to Gov. Robert Bentley (R) for signature.
California
Assembly Bill 35, which grants ID cards and unemployment benefits to DACA recipients, passed the Assembly 58-16 on May 23 and has been transmitted to the Senate.
Assembly Bill 60, which removes the lawful presence requirement from California's driver's licenses statute, was passed out of the Assembly's Appropriations Committee by a vote of 12-5 on May 24 and is scheduled for second reading.
Senate Bill 141, which grants in-state tuition and financial aid eligibility to any U.S. citizen child whose parent(s) were deported or voluntarily departed the U.S. and 1) moved abroad; 2) lived in California immediately before moving abroad; 3) attended an elementary or secondary school in California for three or more years; 4) is enrolled for their first year at a California college or university; and 5) demonstrates a financial need for the exemption, passed out of the Senate's Appropriations Committee (7-0) on May 23, was read a second time and has been ordered to third reading.
Connecticut
House Bill 6495, which grants driver's licenses to illegal aliens, passed the House 75-55 with 21 members not voting. The bill requires:
1) Proof of identity by producing two documents from the primary list or one document from the primary list and one from the secondary list. The primary list consists of (a) an unexpired foreign passport or passport expired for less than 3 years; (b) a valid, unexpired consular identification document issued by an applicant's country of citizenship; or (c) a consular report of an applicant's birth in a foreign country. The secondary list consists of (a) a valid, unexpired motor vehicle operator's license, with security features, issued by another state or country, (b) a valid foreign voter registration card, (c) a certified copy of a marriage certificate issued by any state or territory of the United States, or any political subdivision thereof, including any county, city or town, (d) a certified school transcript, or (e) a baptismal certificate or any similar document;

2) Proof of Connecticut residency; and

3)  Files an affidavit stating that an application to legalize status has been filed or will be field when eligible (if ever) to do so.
A person who has been convicted of a felony is not eligible for the license. The license cannot be used for federal ID purposes (as stated on the license) or voting in Connecticut. The license will state "for driving purposes only." The license is good for three to six years and may be renewed every three years. The bill creates a working group to study methods to verify foreign documents.  The report from the group with recommendations is due by February 1, 2014.  The driver's license provisions go into effect January 1, 2015.
House Bill 6659, an anti-detainer bill, passed the House and has been transmitted to the Senate.
Nevada
Senate Bill 303, which grants driver authorization cards to illegal aliens, passed the House (30-9) on May 27. The card is valid for one year and cannot be used for ID purposes. Identity can be proven by foreign passport, foreign birth certificate, consular ID card or any other proof the department deems acceptable. The card cannot be used to determine eligibility for any state benefits, licenses or services.
The bill also contains a provision that prevents the Director of the Department of Motor Vehicles from communicating the immigration status of any person who holds a driver authorization card to any person or federal, state or local governmental entity for the purpose of immigration enforcement.
Oregon
House Bill 3315, which mandates E-Verify use by any contractor performing reforestation work on federal forestland, passed the House Transportation & Economic Development Committee and has been read a second time.
Tennessee
Senate Bill 1036, an amendment that strengthens Tennessee's anti-human trafficking law, was signed by Gov. Bill Haslam (R).
Texas 
House Bill 1272, an amendment that strengthens Texas' anti-human trafficking law, was sent to the Gov. Rick Perry (R) for signature.