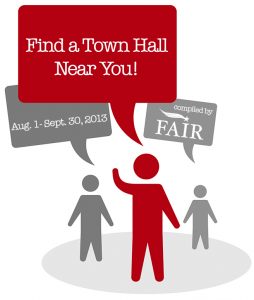 While the New York Times tried to downplay the role of local town halls this August, the truth is that there are plenty of opportunities to contact your Member of Congress during recess. In fact, FAIR counts a total of 708 events happening across the country between August 1 – September 30, 2013.
The last two weeks in August are particularly busy for town hall events since many communities start back to school and end the summer vacation season. Click here or scroll down to see the map FAIR's assembled listing every town hall in the country this week.
This week, key members of the House are holding town hall meetings. If you live near their district, please make every effort to attend.
Wednesday, August 21
Rep.  Steve Scalise     
Rep. Cathy McMorris Rodgers   
Rep. Ted Poe 
St. Bernard Parish Town Hall
2:30 p.m. CDT
Rocky and Carlos Restaurant
613 W. Bernard Highway
Chalmette, LA 70043
Directions
Annual Town Hall
6-7 p.m. PDT
The Lincoln Center
1316 N. Lincoln St.
Spokane, WA 99201
Directions
6:30-7:30 p.m. CDT
Christ the King Lutheran Church
2353 Rice Blvd.
Houston, TX 77005
Directions
Thursday, August 22
Rep.  Steve Scalise 
Plaquemines Parish Town Hall
Belle Chasse Library Meeting Room
8442 Highway 23
Belle Chasse, LA 70037
Directions
Friday, August 23
Rep. Mark Amodei
Immigration Reform Listening Session
10:30 a.m. – Noon PDT
Washoe County Commission Chamber
Building A
1001 E. 9th St.
Reno, NV 89512
Directions
More Town Halls
See below for a map of all the town halls happening today through Sunday. If you know of an event that is not included, please add it in the comments section of this post!
Instructions: Click on an individual place marker to see event information. If you do not see a map of the United States, click on the +/- buttons (bottom right corner) to adjust the size of the map, or hover over the map until a hand icon appears and "drag" the map to emphasize part of the country. Click on the check marks on the menu to display or remove individual days. You can also click here to open a larger version of the map.