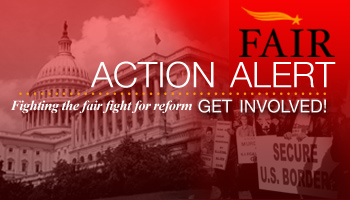 Call Your Representatives and Urge Them to Oppose!
House GOP leaders are working at a break-neck speed to get what they are calling the "toughest border security bill ever" to the House floor next week.  House Homeland Security Chairman Mike McCaul (R-TX) introduced the bill, H.R. 399, last Friday and House leadership announced plans to bring it to the floor next week!
The bill, H.R. 399, gives the Department of Homeland Security (DHS) five years to achieve operational control of the U.S.-Mexico border and imposes certain penalties if it fails to do so. It also:
Requires that DHS place specific resources in each border sector along the Northern and Southern borders, but then allows Customs and Border Protection (CBP) to alter the plan if "border security threats" so require;
Requires DHS to construct hundreds of miles of roads, including roads for private land owners;
Requires DHS to construct and heavily man "forward operating bases," near the border–a practice to which the Border Patrol Union strongly objects and has called "an enormous waste of taxpayer money";
Gives DHS another seven years to implement a biometric exit system–a mandate that has already been in federal law for over a decade;
Requires Border Patrol Agents be given access to federal lands along the U.S.-Mexico border; and
Creates a new Border Security Verification Commission to certify whether DHS has achieved operational control of the border.
H.R. 399, however, only adds approximately 50 miles of pedestrian fencing along the border. When asked about the small number, Chairman Mike McCaul responded that his bill puts "fencing where fencing is needed… In our conversations with outside groups, experts and stakeholders, we learned that it would be an inefficient use of taxpayer money to complete the fence."
Before the Committee hearing Wednesday, the Federation for American Immigration, also known as FAIR, announced it opposes H.R. 399 because it does nothing to stop President Obama from simply releasing any illegal aliens caught at the border and giving them work authorization.  FAIR President Dan Stein said:
"H.R. 399 is a loophole-ridden bill that fails to address the true causes of our nation's illegal immigration problem….The problem is decades of failure to enforce our laws against illegal immigration. Yet, in the six years President Obama has been in office, he has outright refused to enforce our immigration laws and proudly declared he will give benefits to illegal aliens.
"Under policies in place by this administration, illegal aliens no longer need to sneak across to gain entry to the U.S.," said Stein. "Would-be illegal aliens understand that being caught at the border will likely result in them being released — often with authorization to work in the U.S. They understand that interior and workplace enforcement has been gutted, and that there is no credible threat of removal once here. That's why we saw tens of thousands of illegal aliens simply turn themselves in at the border last summer. Ultimately, H.R. 399 amounts to an expensive seven-year timetable to close the 'backdoor' of illegal entry, while we maintain policies that allow inadmissible aliens to walk through the front door."
Importantly, those charged with enforcing and implementing our immigration laws also oppose H.R. 399. The union that represents Border Patrol Agents, the National Border Patrol Council (NBPC), opposes H.R. 399.  The union that represents thousands of officials at U.S. Citizenship and Immigration Services (USCIS) also opposes H.R. 399. Ken Palinkas, head of the USCIS union, opined that "H.R. 399 – Chairman McCaul's legislation – does nothing to preclude anyone in the world from turning themselves in at the U.S. border and obtaining automatic entry and federal benefits."
Many Members of Congress are also worried that H.R.399 might open the gateway for amnesty legislation. "I'm always apprehensive to advance a piece of legislation that could become a vehicle for a lot of other stuff that's not very good," said Rep. Steve King (R-IA). "I'd like to hear from [leadership], 'What's your strategy?'" (Roll Call, Jan. 22, 2015)
We need your help!!  Call your Representatives NOW and urge them to oppose H.R. 399.  Tell them you want border security legislation that actually prevents the President from releasing illegal aliens apprehended!  There is no time to waste. House leaders have already declared members will be voting on H.R. 399 next week.  Call NOW and make a difference!
To find your representatives, click here.
Sincerely,
-FAIR