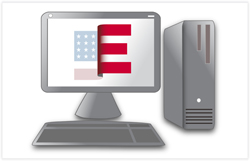 Tuesday night, the North Carolina General Assembly passed the "Protect North Carolina Workers Act," also known as House Bill 318. The bill strengthens the North Carolina's immigration policies by toughening the state's E-Verify law, prohibiting "sanctuary" policies that impede the enforcement of immigration law, and cracking down on identity fraud.
Specifically, the law broadens the reach of the state's E-Verify law to also require contractors hired by the state to verify that their employees are authorized to work in the United States using the free, web-based program.
H.B. 318 also takes a stand against policies instituted by localities that prohibit their law enforcement from contacting or cooperating with federal immigration authorities and against policies that prohibit law enforcement from inquiring into the immigration status of individuals in custody.  These policies, which proponents argue are intended to foster "trust" with law enforcement in immigrant communities, are designed to protect criminal aliens from detection and removal from the United States by restricting compliance with detainer requests, often called ICE holds. (Pew Charitable Trusts, Oct. 31, 2014; ICE Detainer Form)
Lastly, the bill restricts government officials from accepting foreign consular cards, including the matricula consular card issued by the Mexican government, as proof of identity or residence. Foreign consular cards are unreliable as they are easily forged or fraudulently obtained and are only useful to illegal aliens. All aliens legally residing in the United States have valid government issued documents and, therefore, have no need to depend on foreign consular cards for identification purposes. The matricula consular card is a particularly unsecure form of identification because the Mexican government does not authenticate the documents used to obtain the card against any database of records.
The passage of H.B. 318 marks a big victory for true immigration reformers. Supporters of the bill acknowledged that the bill would go a long way to protect public safety, reduce identity fraud, and discourage illegal immigration to the state by making it harder to find jobs. The bill "protects jobs, it protects taxpayer resources," said Representative Chris Whitmire. (Washington Times, Sept. 30, 2015)
H.B. 318 is currently on Governor Pat McCrory's desk, awaiting his signature to become law. H.B. 318 may also become law if McCrory takes no action within 10 days of receiving the bill.