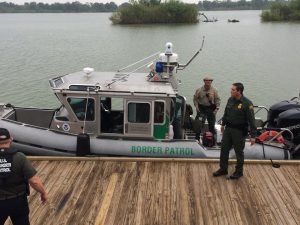 Two weeks ago, FAIR hosted the third annual Sheriff Border Summit in McAllen, Texas. The summit is an educational training event created specifically for sheriffs from around the nation.
On the first day of the summit, participants heard from various guest speakers about national security, terrorism, transnational gangs, sanctuary city policies, public safety, and the role of sheriffs in ending illegal immigration. The second day of the summit included a tour of the Texas-Mexico border with U.S. Border Patrol and the Texas Department of Public Safety. Later, attendees met with Texas Border Volunteers (TBV) at a local ranch.
Richard Valdemar, a nationally recognized gang expert and speaker at the summit, gave a presentation on gangs. Valdemar explained that illegal immigration often influences the gang problem in the United States and stressed the importance of law enforcement taking action to prevent gang related crime. Many gangs, such as Mara Salvatrucha (MS-13), are taking advantage of the immigration crisis at the U.S. border and have even been discovered recruiting unaccompanied alien children (UACs) being held at detention centers. It is critical to keep gang members off our streets because they are a danger to our society.
The tour of the Texas-Mexico border was enlightening. Border Patrol took participants on boats along the Rio Grande where it was possible to observe drug cartel houses, deflated rafts used by illegal aliens to paddle across the river, and trails used by illegal aliens once they reached U.S. soil. In addition, the Border Patrol provided video footage captured by agents during a few of their apprehensions via helicopter. Despite the fact that they are understaffed and hamstrung by administration policies, the Border Patrol agents seemed encouraged to do their jobs.
The sheriffs and other participants also met with TBV, a group of volunteers who aid law enforcement officials in securing the border. TBV made it clear that Mexican nationals are not the only ones using the Mexican border to cross into the U.S. In fact, they have alerted Border Patrol to apprehend individuals from dozens of countries including: China, Iran, and even New Zealand.
These illegal aliens pay "coyotes," organized criminals, who smuggle them across the border. Typically, one coyote coordinates travel (mostly by bus) from Mexico to the border. Then there are multiple coyotes that take illegal aliens across the border and further north so that they can bypass Border Patrol checkpoints. During the journey, many illegal aliens die of exhaustion or dehydration. TBV strives to catch as many coyotes as possible because they are the root of the illegal immigration issue in the south Texas area.
All in all, the weekend was an eye-opening experience for all who attended. It is crucial for all law enforcement to understand how large of an issue illegal immigration is in our country.
To see photos from the event, click here.