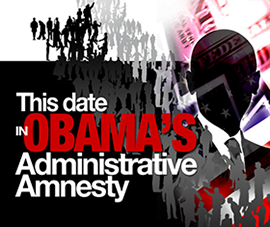 Three years ago on this date, the President of the National Immigration and Customs Enforcement (ICE) Council, a union which represents approximately 7,000 ICE agents, officers and employees, criticized a memo issued by former ICE Director John Morton.
On June 23, 2011, Chris Crane, the National ICE Council President, issued a press release declaring that the June 17, 2011 Morton memo was "aimed at stopping the enforcement of U.S. immigration laws in the United States." Furthermore, Crane said, "Unable to pass its immigration agenda through legislation, the Administration is now implementing it through agency policy."
Not only did the substance of the memo (see FAIR's last This Date blog) concern ICE officers, but the way it became ICE policy was questioned. Crane said, "it was all kept secret from us, we found out from the newspapers. ICE worked hand-in-hand with immigrants' rights groups, but excluded its own officers."
Just weeks earlier, the membership of the ICE union cast a vote of no confidence in Morton and the agency's leadership. The ICE officers declared that Morton had "abandoned the Agency's core mission of enforcing United States Immigration Laws and providing for public safety." The vote was prompted by a previous memo which also had weakened enforcement.
Despite the ICE union expressing its concerns, the Obama Administration would continue to issue further policy directives that like these first two "Morton Memos" further relaxed immigration laws without the involvement of the law enforcement.