In two recent public opinion polls, large majorities of voters said they favor immigration enforcement, reduced immigration, and immigration policies that protect the American worker. These findings came from two nationwide surveys conducted of 1,001 likely voters from July 16-20, 2014 and 1008 adults from August 7-10, 2014, jointly released last week by pollster Kellyanne Conway.
Conway's poll found that Americans favor more immigration enforcement and reduced levels of immigration over amnesty policies. Seventy-five percent of respondents want more enforcement, including 63% of Hispanics and over 50% of Democrats.
 Most favor limiting chain migration to spouses and minor children, while 76% said adult foreign citizens who overstay their visas should not be permitted to remain in the United States.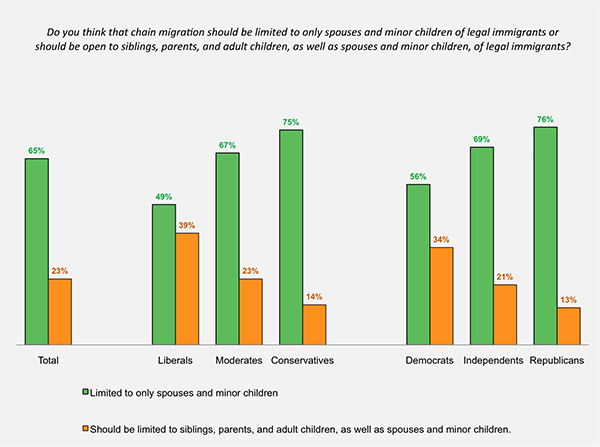 In addition, 70% of those polled believe most illegal aliens should be encouraged to return to their home countries rather than offered legal status in the United States and more than two-thirds of likely voters, including 64% of union members, believe that the U.S. should deny illegal aliens jobs and welfare benefits to encourage repatriation to their home countries.
Importantly, large majorities of those polled also indicated strong support for the American worker. Eighty-nine percent of respondents agreed that U.S.-born workers and legal immigrants already in the country should receive preference over additional immigrants who come to the United States illegally. Seventy-seven percent also believe U.S. born workers and legal immigrants should be given preference for jobs over new legal immigrants.
If businesses have trouble finding workers, 75% of those polled said that U.S. businesses should raise wages and improve working conditions rather than hire immigrants.
Furthermore, 80% said businesses should be required to recruit and train more American workers from groups with high unemployment levels.
Also, 74% said that the government has a responsibility to adopt immigration policies that protect unemployed or low-wage Americans from competition with illegal aliens for jobs.
Overall, the poll showed evidence of the increasing dominance of immigration as an issue in the minds of likely voters. A majority of those surveyed (57%) named immigration as the most or one of the three most important issues to their vote this fall.
Pollster Kellyanne Conway said, "I have never seen immigration at the level where it is in terms of American consciousness."