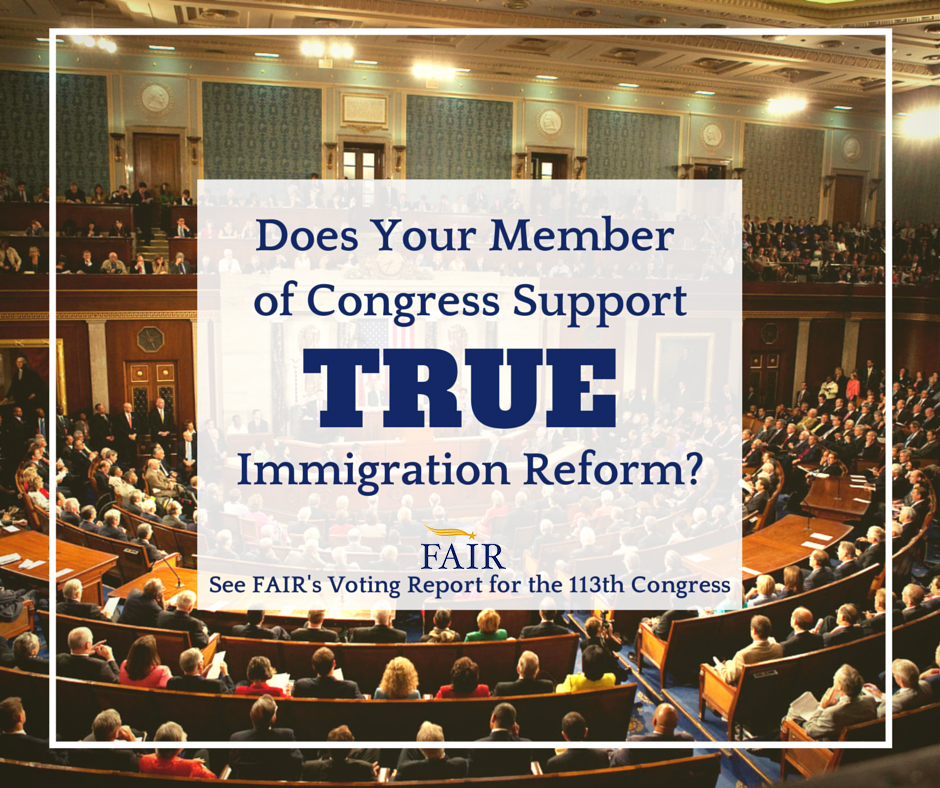 This week FAIR released our Voting Report to give our members insight into how their lawmakers have tackled the complex and thorny issue of immigration during the 113th Congress. FAIR's Government Relations team assembled this report by sifting through the immigration votes held in 2013 to 2014 and determining which ones were most important with respect to promoting good immigration policy.
Although the 113th Congress saw fewer bills passed than any other Congress in recent history, the Senate did consider a mass guest worker amnesty bill as well as the nomination of U.S. Citizenship and Immigration Services (USCIS) Director Alejandro Mayorkas to be the Deputy Secretary of the Department of Homeland Security (DHS) during its first session. For 2013, the Senate report contains votes on key amendments that reached the Senate floor on the Schumer-Rubio amnesty bill (S. 744), as well as those on critical procedural moves leading up to the final passage. The report also contains the nomination of Mayorkas, who was under investigation by the DHS Inspector General's office regarding alleged impropriety in administering the EB-5 program and faced accusations of rubberstamping immigration benefits while at USCIS. By contrast, during the second session in 2014, the Senate avoided immigration almost entirely so the Senate report only contains the vote on emergency funding to address the surge of unaccompanied alien minors crossing the border unlawfully.
In the lower chamber, the House of Representatives took little action on immigration on the House floor in 2013. Therefore, we chose only three immigration-related votes on appropriations to present a picture of each Representative's position.  On the other hand, in 2014 the House brought several immigration bills to the House floor. For 2014, the House report contains votes on ending President Obama's administrative amnesty programs, closing loopholes in the tax code exploited by illegal aliens, and emergency funding to address the surge of unaccompanied alien minors crossing the border unlawfully.
We encourage all of our members to review the Voting Report and learn more about how their lawmakers are representing them. You can access the Report here.